Financial Services
Treasury
Leverage Brale's Treasury infrastructure to back your bespoke fiat-backed digital dollar stablecoin. Fund your stablecoins with off-chain or on-chain transactions while making them available for others to purchase.
Your stable, your design
Pick your ticker symbol, stablecoin logo, and which blockchain ecosystems to deploy on, and just like that, you've got an actual bespoke stablecoin. You pick the primitives, and our technology will take care of the rest.
Instant listing, right on our platform
Compatibility with the ecosystem

Availability for others to buy

No liquidity requirements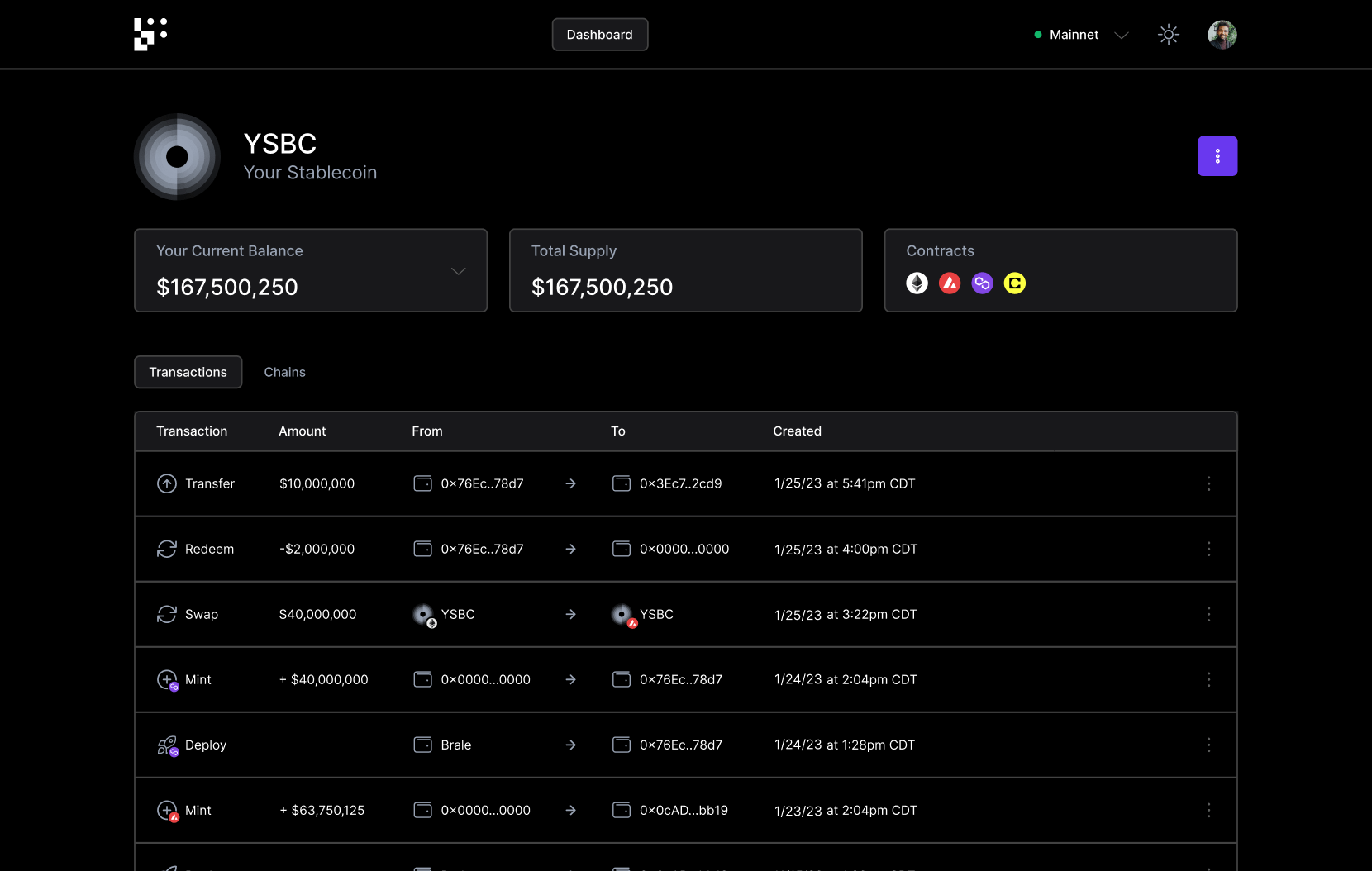 Do you need $10M & a law degree to launch a stable?
Working with Brale, deploying a stablecoin takes only as long as the block confirmations take. In the afternoon, you can launch a bespoke multi-chain stablecoin available to everyone on the Brale platform.
Multi-chain right out of the gate
The same technology we use to power SBC
Treasury is the technology that sits behind SBC, that makes it all possible. Instead of keeping that technology from everyone, we're sharing it with everyone. Treasury is the technology financial infrastructure that makes launching bespoke stablecoins possible alongside existing regulations.
Premium features to support your ambitions
Automated Audited Smart Contracts
Deploy audited customizable smart contracts to optimize risk management, fees, and more. Brale manages smart contract updates so you don't have to.
Signing Partners
Brale supports hybrid signing with MPC or multi-sig controlled contracts to enhance security and operational efficiency for your team.
Dedicated 24/7 Support
Get premium product and technical support from a team with deep knowledge of your business. We work directly with your team through a dedicated slack channel.
Host Your Contract
Treasury works with your existing smart contracts. List your stablecoin for mints and redemptions on current chains, while Treasury helps you expand onto new chains without any development.
OFAC SDN List
We continuously monitor the SDN list and update smart contracts to block sanctioned addresses on all blockchains to keep your stablecoins safe.
Talk to Sales
To support these premium features and other needs at your organization, schedule a demo with our team.
Leverage the power of protocols with your own branded stablecoin
Starts at $10 / month
Create Stablecoin